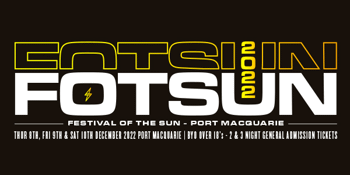 triple j, Sand Events, FOCUS, Hhhhappy, Finnian's and Pretty Rad Store present
CANCELLED - Festival of the Sun
Port Macquarie Breakwall Tourist Park (Port Macquarie, NSW)
Fri 9 - Mon 12 December 2022 10:00 am
FOTSUN is back to its regular antics this Summer by throwing a huge 19th instalment of the infamous barefoot B.Y.O music fiesta. Festival of the Sun will be putting on a show for the second time in 2022, and plans on going harder than ever to bring you top quality music, art, food and camping, all in their humble beachside home of Port Macquarie.

Come join in the three day festivities this Summer, with FOTSUN set to kick off with early bird camping on Thursday Night the 8th of December and a huge line up running a muck on Friday 9th and Saturday 10th of December 2022. Keeping true to their roots, FOTSUN is taking place at the prime beach front real estate of Port Macquarie Breakwall Holiday Park. It's time to drop this major lineup in the group chat and get your gang and eskies together to snake tickets to see some of the best headliners and upcoming acts the Aussie music scene has to offer, without worrying about those harrowing drink queue lines.

PEKING DUK - VERA BLUE - COSMO'S MIDNIGHT - CONFIDENCE MAN - ALEX THE ASTRONAUT - PACIFIC AVENUE - THE TERRYS - THE DREGGS - ELIZA & THE DELUSIONALS - STUMPS - BENSON - NYXEN - FELIVAND - TEENAGE DADS - RUM JUNGLE - SOUTH SUMMIT - CAROLINE & CLAUDE - FULL FLOWER MOON BAND - GOOD LEKKER - ASTON - HOLiDAY - SCUFFS - MILD WEST - THE COLLIFLOWERS - MIKK - PSYCHODA

The FOTSUN Crew are keener than ever to have FOTSUN happening in its rightful Summer scene again, stating "After an awesome revival of FOTSUN in Autumn this year, we definitely have a taste to have FOTSUN back in it's rightful Summer place and make this one the best year yet. We couldn't be more excited to bring FOTSUN to punters near and far this December, and offer a high quality, spacious site for people to enjoy music and creativity in the dream location of the mid North Coast. This lineup is full of talent and pure fun, and we can't wait for ticket holders to see what we have in store for them this year at our boutique B.Y.O festival."

Not compromising on comfort, FOTSUN has all your accommodation and amenities covered. Camp, caravan, waterfront cabin or glamp - either way, the experience of FOTSUN can be tailored the way you like to fezzy, offering a slew of onsite and nearby accommodation options. FOTSUN is also excited to launch a brand new dedicated undercover VIP area, an eski cloak room and access to their brand new after party, so if you consider yourself important, this one's for you.

Tickets and festival packages will be available from Thursday the 11th of August at Midday. No coin? No worries. FOTSUN has pay over time packages, so you can lock in and worry later. All ticket packages and full details can be found on fotsun.com.